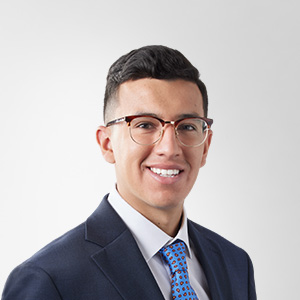 Sergio I. Rodriguez
Stagiaire, Montréal
Law School
McGill University
Education
McGill University
Sergio believes a good lawyer should be an attentive listener, intellectually curious and empathetic toward clients.
Sergio used his undergraduate studies in political science, economics and management to explore his different interests, learn practical business insights and develop the skills necessary for a successful career in law.
What inspires and motivates you (personally or professionally)?
Personally, I am motivated to ensure tomorrow will be a better day than today. Professionally, I am motivated to work as hard as I can to ensure that when the right opportunity presents itself, I will be ready.
Is there an organization that means a lot to you?
I worked as a pro bono legal caseworker at the Carrefour de Ressources en Interculturel, an organization that provides social services to immigrants and newcomers to Canada. My team was the key source of legal information for a range of issues our clients faced, from consumer protection to family law matters. That has been my most rewarding experience to date.
Share a meaningful quote.
"Siempre para adelante" is a Spanish saying that my Nona has said to me my whole life. It roughly translates to "always moving forward."