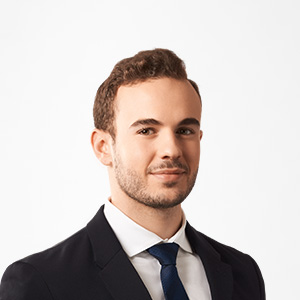 Noah Abitbol
Stagiaire, Montréal
Law School
Université de Montréal
Education
Dawson College
Noah was impressed by the firm's welcoming, collegial and positive environment, and he looks forward to forging strong relationships with members of the Davies team.
Before law school, Noah studied health sciences, honing his critical-thinking and problem-solving skills, which he believes will benefit him throughout his legal career.
Is there an organization that means a lot to you?
MEDILIFE – they partner with low-income communities to improve their access to medicine, education and development projects. In 2018, I led a trip with 30 students to Lima, Peru, where we volunteered in mobile clinics in local communities – an immensely rewarding and humbling experience.
If you were not a lawyer, what career would you have chosen?
I would probably go to culinary school and become a chef, or become a personal trainer. Cooking and exercising are two of my daily hobbies, and I am quite passionate about them. They allow me to take a break from my workload and give me that extra boost of energy to start or finish my day strong.
Share a meaningful quote.
"Leadership demands two kinds of courage: the strength to take a risk, and the humility to admit when a risk fails." – Rabbi Jonathan Sacks