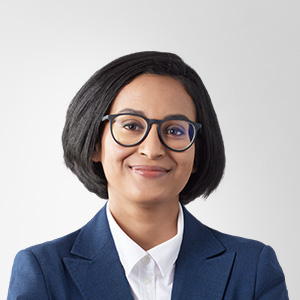 Mehlka Mustansir
Stagiaire, Montréal
Mehlka chose to work at Davies because we support the individual interests of our students and encourage them to explore diverse practice areas.
Having grown up in different countries and cultures, Mehlka studied history and politics before attending law school, which helped cultivate her fact-finding, reasoning and writing skills.
What inspires and motivates you?
I am constantly inspired and motivated by my peers and classmates. Seeing others challenge themselves and succeed in their respective fields encourages me to step outside of my comfort zone.
Whom have you learned the most from personally or professionally?
During my third year of law school, I served as the Managing Editor of the McGill Law Journal. I worked with and supervised a team of five students on the management board. It was a formative leadership experience as well as an opportunity to practise my business advisory and strategy skills.
What was the last book you read or movie you saw?
The last movie I saw was Minari. It is a brilliant story of an immigrant family's struggle to adapt to their new homeland. It resonates strongly with my personal experience.