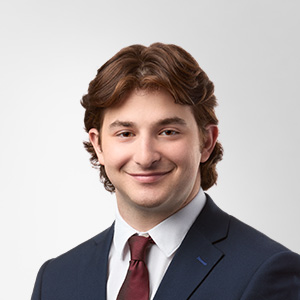 Matthew Goldenberg
Student, Montréal
Law School
University of Ottawa
Education
John Abbott College
Matthew's science studies provided him with the strong critical thinking and problem-solving skills needed for analyzing and resolving complex legal issues.
He is interested in corporate M&A for its fast-paced environment and high-stakes transactions.
Why are you interested in practising law?
I love to be challenged and in the legal world, I am given the opportunity to learn new things and face new challenges every single day.
What common myth about Davies would you want to dispel? How has it proven to be untrue?
I would want to dispel the myth that Davies only looks for one type of candidate. While the people I have met share some characteristics, personalities vary, creating diversity throughout the office.
Share a meaningful quote.
"There may be people who have more talent than you, but there's no excuse for anyone to work harder than you do." – Derek Jeter