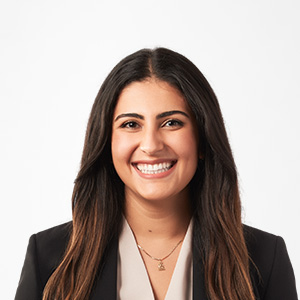 Jordana Khouah
Student, Montréal
Jordana's degree in health sciences sharpened her creativity, quick thinking and communication skills, allowing her to develop persuasive arguments and innovative solutions.
Jordana was charmed by the kindness of everyone on the Davies team, and she looks forward to working with them on challenging and complex mandates.
What experience, job or internship have you learned the most from or found most rewarding?
My internship at the Superior Court was the most rewarding experience during my undergraduate degree. I had the opportunity to attend many hearings, hear the arguments of high-calibre lawyers, develop my research and writing skills, and learn how to effectively argue my position.
If you were not a lawyer, what career would you have chosen?
I would have been an astrophysicist. I am fascinated by space, and I would have like to study the subject more.
Share a meaningful quote.
"I am no longer accepting the things I cannot change. I am changing the things I cannot accept." – Angela Y. Davis