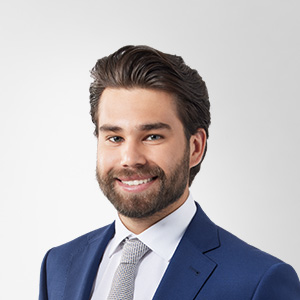 Jérôme D. Cauvier
Student, Montréal
Jérôme chose Davies because of the high degree of responsibility given to students, allowing them to work on some of the most challenging and impressive mandates in the country.
While at Cégep, Jérôme organized the first college stock market simulation in Québec – the « Simulation boursière Grasset ». The event is still held every year and brings together more than 200 participants from secondary schools, colleges and universities.
What surprised you most about Davies during the interview process?
I was surprised by how easy-going the interviews felt and the friendliness and humility of the team members. Right from the start, I felt at home!
What experience, job or internship have you learned the most from or found most rewarding?
I learned the most during my time at CN. I worked alongside exceptional lawyers who taught me the importance of producing quality results in a high-pressure environment. I was also fortunate to have the opportunity to work with its chief legal officer – a truly rewarding experience.
Is there an organization that means a lot to you?
I have a soft spot for supporting hospitalized children. My mother worked at St. Justine's Hospital for over 30 years. I have been involved for over two years with the Comité Déjeun'aide, a charity event that supports The Montréal Children's Hospital.