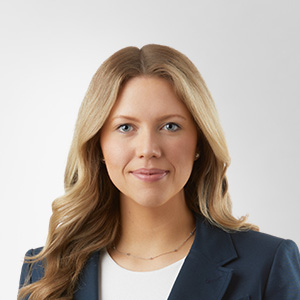 Jamie Cowan
Student, Montréal
Jamie chose to study law in her second language, finding that stepping outside her comfort zone provided an opportunity to grow and learn.
She looks forward to learning more about mergers and acquisitions, and to gaining exposure to a variety of companies and industries.
If you were not a lawyer, what career would you have chosen?
A TV writer. I love a well-crafted plot, and the job seems like it would offer so many opportunities to be creative!
Is there an organization that means a lot to you?
The Donald Berman Maimonides Geriatric Centre, where I volunteered weekly while completing my undergraduate degree. The experience was so rewarding because I knew how much this companionship improved the residents' days and how much it meant to their families.
Tell us something about yourself in six words or less.
I took introductory Kanien'kéha (Mohawk) at McGill.