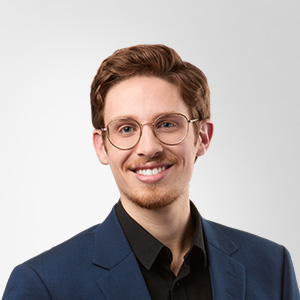 Daniel Wade
Student, Montréal
Law School
Université de Montréal
Education
HEC Montréal
Université de Montréal
As a classical cellist, Daniel possesses the rigour and attention to detail that are equally indispensable in the practice of law.
Daniel also studied management, where he discovered an interest in the business world.
Why are you interested in practicing law?
I enjoy the complexity of the questions we are asked. Every day is a new intellectual challenge.
Why did you choose to work at Davies?
Davies is a lean and efficient law firm that thrives on complex, high-stakes cases. In addition, the firm's culture is one of inclusion and collegiality. The chemistry between partners and lawyers is unique. It is a place where you can go above and beyond and have a team you can trust.
Is there a particular practice area or industry that interests you?
I still have a wide variety of interests. Business law ties in with the skills I developed during my studies at HEC. I like the idea of being a true business partner for clients and helping them achieve their goals. Commercial litigation also appeals to me, as it involves complex and constantly evolving issues of fact and law.