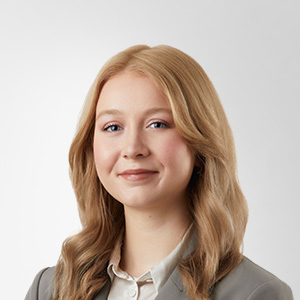 Dahlia Hodge
Student, Montréal
Dahlia is greatly interested in tax law and will undertake a clerkship at the Tax Court of Canada in Ottawa, starting in August 2023.
She looks forward to "learning the ropes" of the business aspect of a career in big law, as well as applying in practice what she has learned in theory.
What inspires and motivates you (personally or professionally)?
A pursuit of knowledge. Whether by reading books and visiting museums or analyzing complex legal issues, I want to be intellectually challenged.
Is there an organization that means a lot to you?
Before joining Davies, I worked as head of communications/social media manager for a community organization in the Laurentians that provides health and social services. It was great to be able to help locals in their time of need.
Whom do you most admire?
Justice Abella, who was nominated to the bench at the young age of 29. She was also a prolific writer and contributed greatly to the development of equality rights. I wish to be a successful jurist like her, both in the professional sense and academically through writing and research.