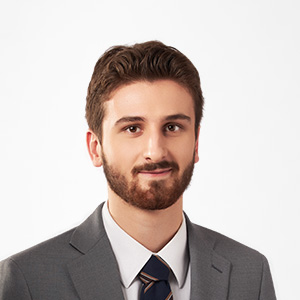 Arnaud Hoste
Stagiaire, Montréal
Law School
Université de Montréal
Education
Bois-de-Boulogne College
Arnaud values a firm that invests in its people and encourages them to act with initiative – which is one reason he chose to work at Davies.
Having studied natural sciences, humanities and arts, Arnaud brings a well-rounded perspective to the firm, which he hopes to apply in the areas of dispute resolution and public law.
Is there an organization that means a lot to you?
Through my involvement with the Ligue de débat universitaire et collegial (LiDUC), I have seen how a well-prepared argument can be a vehicle for change, both from a collective and an individual perspective. It is a tremendous development tool for students, encouraging reflection, humility and openness.
What skill would you like to learn?
Collaborative leadership is a skill that I would like to master and put to good use. I believe when we engage and value each member of our team, we achieve the best results.
If you were not a lawyer, what career would you have chosen?
Given my strong interest in politics and public relations, I would like to be involved in public life, whether as an elected official, consultant, political scientist or political attaché. Listening to my community, being of service to it and instigating change in the public interest are among my life goals.