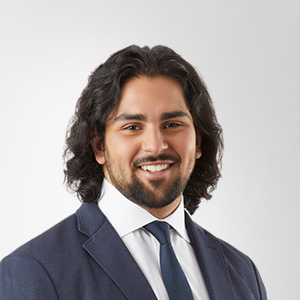 Aria Barin Khiabani
Student, Montréal
Aria enjoys working in teams to find creative and unique solutions to complex problems, which inspires him to practise law.
While he is open-minded about practice areas, he believes his advocacy skills may lead him to work in commercial litigation, arbitration, and other forms of dispute resolution.
If you were not a lawyer, what career would you have chosen?
A music producer and creative director. I have always had a passion for music production and love finding ways to push boundaries when it comes to sound design and song structure.
What skill would you like to learn and why?
I have been working on my French over the past few years since moving to Montréal and hope to develop that skill throughout my legal career. I believe speaking French is not only an asset professionally, but also an undertaking that shows commitment to understanding Canada's history and culture.
Is there something about you that we would be surprised to learn?
I am a rapper and hip/hop artist. I have been rapping since the age of 14 and love writing rhymes.