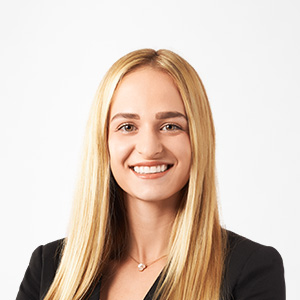 Amélie Racine
Stagiaire, Montréal
Law School
McGill University
Education
Cégep de Granby
Amélie chose Davies because of the firm's entrepreneurial culture, excellence in business law and the true collegiality she observed among our lawyers.
In law school, Amélie won the MacKay Award for Excellence in Corporate Tax for achieving the highest grade in the Corporate Taxation course. Concurrent with her legal studies, she is pursuing a minor in finance to expand her business knowledge and better target the needs of her clients.
What common myth about Davies would you want to dispel?
That a culture of excellence necessarily equals a compromise in lawyers' personal lives. In my discussions, I discovered that the opposite is true! Everyone has their own unique interests outside work, and this is celebrated and encouraged within the firm.
Is there an organization that means a lot to you?
I am fortunate to be president of the McGill University Chapter of the First Generation Network, a network for law students who are the first in their families to go to university.
Whom have you learned the most from personally or professionally?
My parents decided to live on a catamaran in the Caribbean with my younger sisters and me while I was finishing high school. They showed me that anything is possible if you really want it and put as much effort as possible into it. This determination and open-mindedness will be reflected in my law career.