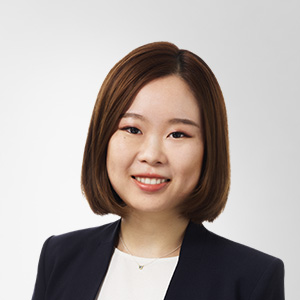 Victoria Li
Returning as Associate in Sept 2022, Toronto
Victoria chose Davies because the firm brings together lawyers from diverse backgrounds to create a collegial and supportive team environment.
Prior to law school, Victoria worked as an analyst trainee at the B.C. Financial Institutions Commission, assisting with projects that monitor the financial stability of the province.
If you were not a lawyer, what career would you have chosen?
I would have become a yoga teacher. I have completed a 200-hour yoga teacher training program and I am a passionate yogi who enjoys helping others experience the mind and body connection that yoga offers.
What are you most looking forward to during your time at Davies?
I look forward to experiencing Davies' generalist approach toward work. I am really excited to be exposed to a variety of practice areas and to learn from the most dedicated and innovative lawyers.
What skill would you like to learn and why?
Having studied in France, I've always wanted to learn how to make a baguette. I'm amazed at how something so seemingly simple requires such a high degree of precision and effort.