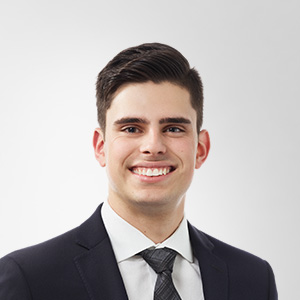 Jonathan Kyriacou
Returning as Associate in Sept 2022, Toronto
Jonathan believes that intellectual curiosity, strong communication skills and a drive for challenge are essential attributes of a good lawyer.
With a background in commerce, Jonathan understands the unique needs and perspectives of corporate clients. He looks forward to applying his knowledge to high-stakes cases while learning from the best lawyers in the country.
What surprised you most about Davies during the interview process?
The collegiality among the lawyers and employees. The firm is truly a partnership.
What experience, job or internship have you learned the most from or found most rewarding?
In 2015, I was the Hockey Operations Intern for the Toronto Maple Leafs. I worked for Lou Lamoriello and Kyle Dubas, and got to see first-hand how some of the best leaders in professional sports push themselves to get better every day.
What inspires and motivates you?
Setting difficult goals. I am motivated by accomplishments, whether personal or professional, that were once simply a vision.