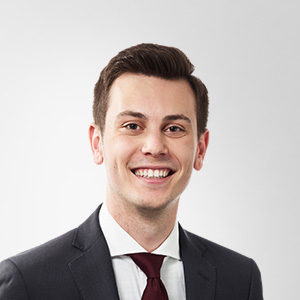 Cory Soininen
Returning as Associate in Sept 2022, Toronto
With a background in molecular genetics, Cory will bring to his legal practice the capabilities of critical thinking and attention to detail, and an appreciation for the way smaller processes contribute to the bigger picture.
During the interview process, Cory was impressed with the way every person he met showed interest in getting to know who he was, both professionally and personally – making him feel like a valued part of the team from the beginning.
Why are you interested in practising law?
Law offers an excellent intersect between complex problem-solving, continuous learning and the opportunity to build relationships with people.
If you were not a lawyer, what career would you have chosen?
An architect. I have always been fascinated by the idea of designing new buildings and bringing creative and artistic freedom into one's work. And if playing with Lego for way longer than I should have has taught me anything, it's that there is plenty of opportunity for quick thinking and problem-solving in the process of building a structure.
Is there an organization that means a lot to you?
I've volunteered with Habitat for Humanity for several years and was president of the chapter at my campus. My favourite aspect about the organization is that it allows for community members to come together and collaborate on something meaningful.