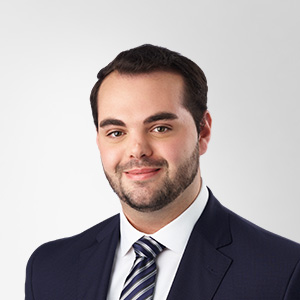 Brandon Orr
2022/2023 Articling Class, Toronto
Law School
Osgoode Hall Law School
Education
Carleton University
Brandon's background in criminology, criminal justice and business gave him the foundational skills upon which to build a successful career in law.
Passionate about learning, Brandon spent two summers working at a financial institution where he administered financing for small and medium-sized enterprises. He is president of the Competition Law Society and the Securities Law Association at Osgoode Hall Law School.
What surprised you most about Davies during the interview process?
Everyone I met at Davies was incredibly passionate about their work and just as eager to learn what I am passionate about. My interviews at Davies helped me realize that part of what makes a great lawyer is truly enjoying what you do.
If you were not a lawyer, what career would you have chosen?
I would likely be working in commercial lending. I was attracted to that line of work because of the opportunities it provided to learn about different businesses in my community and meet the entrepreneurs behind them.
Where was the last place you travelled to?
Calgary and Canmore. It is incredible to see the breathtaking scenery that Canada has to offer. Standing in between the mountains in Canmore is truly an awe-inspiring experience.