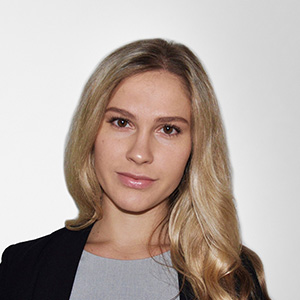 Alex Maly
Returning as Associate in Sept 2022, Toronto
Alex chose Davies because our culture prioritizes continuing education and professional development.
Her background in business management and Organizational Studies gave her an intimate understanding of the way businesses operate and equipped her with the skills to effectively solve client challenges by bridging the gaps between business, policy and law.
What surprised you most about Davies during the interview process?
The collegial and supportive environment within the firm. No one hesitated to stop and say hello in the hallways, and each employee was treated with an equal level of respect regardless of their position within the firm.
Whom do you most admire?
Ruth Bader Ginsburg, because of her relentless pursuit to secure women's rights in the face of adversity. I'm inspired by her resilience in response to both professional and personal setbacks, and I hope to emulate her in this regard.
Share a meaningful quote.
"The only place success comes before work is in the dictionary" – Vince Lombardi.
When I was running track, this was the quote that I had inscribed on the inside of my training singlet. It served as a reminder that nothing worth having comes easily and has served a similar purpose throughout the early stages of my legal career.