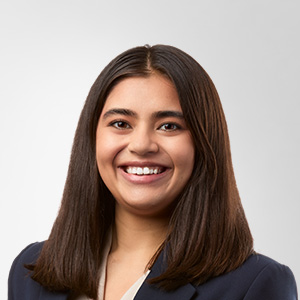 Sara Sanabria
Student, Montréal
Law School
McGill University
Education
University of British Columbia
Sciences Po (Paris, France)
Prior to entering law school, Sara completed a Bachelor of Arts in International Law in France and a double major in International Relations and Political Science in British Columbia.
Sara is a goal-oriented person who loves tackling complex problems and serving others.
Is there a practice area or industry in which you are particularly interested?
At the moment, I am interested in litigation and alternative dispute resolution. After competing in the Willem C. Vis International Commercial Arbitration Moot, I fell in love with oral and written advocacy. I especially enjoyed being asked questions by the tribunals, which forced me to think on my feet.
Why did you choose to work at Davies?
Ultimately it came down to the people and the incredible learning opportunity. During CAS, I felt like I connected with everyone I talked to and I knew that I would enjoy working with every person I met. Also, based on my discussions with current students, I was confident that Davies would provide me with an unparalleled learning opportunity.
If you were not going to become a lawyer, what career would you have chosen?
If I were not a lawyer, I would have gone back to school to earn a business degree to work in operations and logistics. Operations and logistics are about helping organizations create, deliver and provide products and services better. In essence, it is about complex problem solving, which is exactly what I love doing!