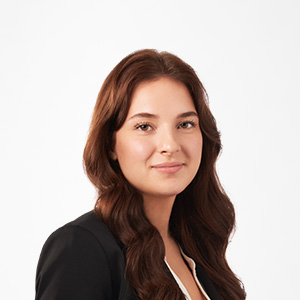 Pauline Beaupré
Student, Montréal
Pauline chose to work at Davies because it offers the opportunity for her to work with the best lawyers in the field and, at the same time, to grow on a personal level.
She is confident her background in computer sciences will prove invaluable as technology becomes increasingly important in the lives of clients and in the practice of law.
What experience, job or internship have you learned the most from or found most rewarding?
During my third year of study in law school, I participated in a clinic with a judge at the Court of Québec. I learned the importance of mutual aid within the justice system and the role that different actors in the system must play when dealing with the public.
Is there an organization that means a lot to you?
I believe that volunteering is extremely important, especially in the area of youth sport. Most of the values and qualities that I apply in my daily life have been taught to me through sports, mainly through my experience volunteering as a coach with a soccer club.
Share a meaningful quote.
"Learning never exhausts the mind." — Leonardo da Vinci