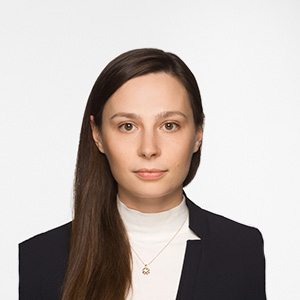 Natalia Koper
Student, Montréal
Natalia admires the intellect, expertise and personalities of everyone at Davies and looks forward to gaining real-world experience in a flexible learning environment.
With a degree in international relations and human rights, Natalia is confident she's developed the skills necessary for a career in law – including openness for discussion, rigorous analysis and a problem-solving attitude.
What surprised you most about Davies during the interview process?
I think everyone expects a rigid structure with very formal meetings, but I was surprised how engaging and casual each interview was. I had the opportunity to meet many Davies lawyers, and each time I left wanting to learn more about the firm and the team.
What experience, job or internship have you learned the most from or found most rewarding?
To prepare for my master's dissertation, I travelled to Nicaragua's Indigenous territories to conduct fieldwork research on the local land conflict. It was particularly challenging to maintain impartiality when interviewing opposing sides of the dispute. At the same time, it was rewarding to see complex issues through the eyes of 46 interviewees, who were all key stakeholders.
Share a meaningful quote.
"Lock up your libraries if you like; but there is no gate, no lock, no bolt that you can set upon the freedom of my mind." – Virginia Woolf, A Room of One's Own