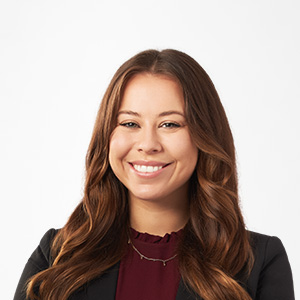 Lara Sioui
Stagiaire, Montréal
Law School
McGill University
Education
Concordia University
John Abbott College
Motivated by helping others, Lara is eager to use her skills to deliver tangible and meaningful results for clients.
Lara's background in communications has helped sharpen her writing and interpersonal skills, and instilled in her the instinct to approach new projects with a mentality of innovation and adaptation.
What common myth about Davies would you want to dispel?
I think a common myth about Davies is that the workplace is very competitive. During my interviews I was reassured by how dedicated Davies lawyers are to working collaboratively and constantly supporting one another.
If you were not a lawyer, what career would you have chosen?
I would have wanted to be a reporter. The idea of chasing down a new story or finding a fresh angle to a societal problem is very appealing to me. It seems to be a job in which you are often being thrown into new situations without a lifeboat, which is right up my alley!
Is there an organization that means a lot to you?
I am the project director of the McGill Wills Project. I am very proud to lead this project, which helps make wills more accessible to low-income seniors. Ensuring that elderly people are treated with dignity and respect is very important to me, and I feel lucky to be able to do such meaningful work as a student.