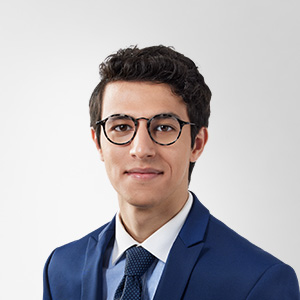 Bilal Amani
Student, Montréal
Law School
University of Ottawa
Education
Cégep de l'Outaouais
Bilal is excited to work at a law firm that values not only excellence but also the individuality and passions of its students.
Before attending law school, Bilal studied natural sciences, giving him a diverse skill set that will enable him to bring a unique perspective to his clients' matters.
What are you most looking forward to during your time at Davies?
I am looking forward to bridging the gap between the theoretical concepts I learned during my studies and their application to real-world situations.
What experience, job or internship have you learned the most from or found most rewarding?
My research internship with one of my law school professors. He taught me the value of both a rigorous work ethic and intellectual curiosity, and the importance of accepting our failures, which are often the founding pillars of tomorrow's successes.
What inspires and motivates you?
My goal is to surpass myself every day, while striving to have a positive impact on the lives of the people I encounter, from afar and up close.